Virtual fitting room for the shop of the future
Your personal shopper behind the mirror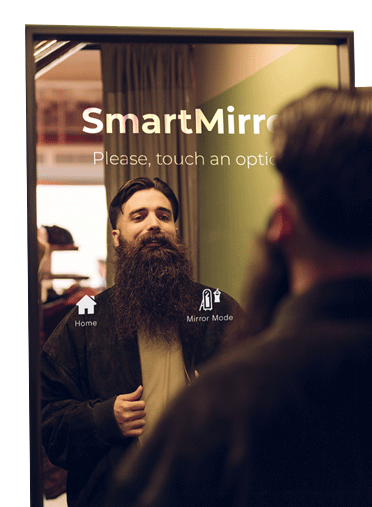 Smart Mirror, DENEVA's virtual mirror
Create a unique and interactive experience in the fitting room area
The mirror identifies the clothing introduced in the virtual fitting room. DENEVA displays all the information about the sizes and colors available of the garments. In addition, it displays recommendations to complete the outfit.
The customer, without having to leave the fitting room area, can request other sizes and colors of the introduced garments. The requests are received by the sales assitant in real time.
Get ahead of the store of the future with the DENEVA virtual fitting room.
Management system for sales assistants
DENEVA has a touch screen with real time information for the clients orders management and the stock control in the fitting room area
Monitoring display in fitting room area
MONITORING THE ARTICLES ORDERED
Review the status of the orders realized thought the fitting room in real time.
CONTROL DE ARTICLES INSIDE THE FITTING ROOM
Check and control the number of articles that each customer has inside the fitting room.
For which industry is this solution interesting?
Wherever you come from, we have a solution for you